11
Sundays with Sharon: Back Home
Sundays with Sharon
Back Home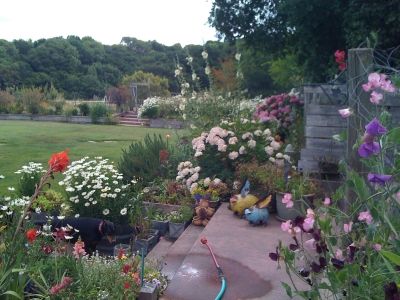 So good to be back home. Life is full. I'm loving the fullness of it. I'm loving the special place I get to occupy. Love the stories I get to tell.
While waiting for my new iPhone on Friday, I met a man from Hong Kong (who bought us all cappuccinos while we waited) who told us some fascinating details of his life. I met another woman who grew up in Boston. I met a couple from South Africa who happened to be touring the wine country on vacation and decided to spend one day of it waiting for a phone.
Thursday night I spoke at the Petaluma Writer's Forum. Carolyn and Jackie took me to dinner beforehand, making me feel like a real rock star. In the audien
ce I saw old friends and met new ones. I saw faces of people I hadn't seen in several years, who just came out to hear me speak, which surprised me. I remember critiquing with some of them, listening to them guest read or discussing plot and story and writing journey with them. My son took some videos we'd like to use snippets of in the future.
On Friday I got a Navy SEAL coin from my friend Anne. Taking it with the Trident card she sent me to the framer's Monday to have mounted and saved, next to the Plank I got from the Navy SEAL/UDT Museum in Florida. Can't wait to go back there next month and say Hi. Pay homage to the souls remembered there. Cry a little, take more pictures and see what's new, and yes, probably make another donation.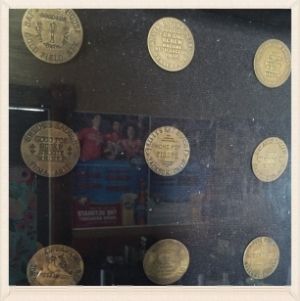 Saturday I met with four friends in San Jose, working on a project to bring a popular writer's course to the Bay Area. I'd not been to the Wagon Wheel Saloon before, and enjoyed the pictures of the "brothel" in the back. The coins in the case were priceless. I've now found a new passion when I go antiquing. Something new to go look for: brothel coins and pictures.
I'm also letting a new story take hold of me, as I finish SEAL's Promise. This one is about an older couple, a secondchance story, about finding love after the death of a spouse. I'd gotten the idea some time ago when I discovered, by accident, an old friend of mine from college had built a new house, and I turned this into a bed and breakfast inn, relocating it to the Oregon coast. I'm not forcing this story, just writing tidbits as they come to me. Like I discussed at lunch on Saturday, I'm enjoying a little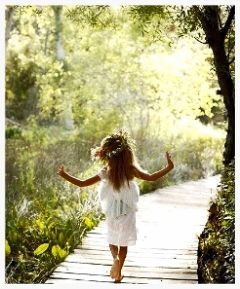 bit of a slow down to enjoy being home, and letting the stories come to me organically, instead of forcing them. Writing what I love and not worrying about anything I don't.
Which is why I love being an Indie writer. I get to do the things I want to do. I get to let the fullness of the emotions take me away to places I don't go on a regular basis. Actually watch TV for the first time in about 3 weeks last night. Got caught up in 4 episodes of Outlander. Okay, now I have to re-read that series. Again. Maybe I can get past book 6 this time…
Here's a poem my heroine composed, which is how I'm kind of thinking of my hero, who is coming to me from the fog. I'm getting in touch with what he thinks and feels, what excites him, what possibilities he has in his personality. How the two of them play off each other as they fall in love. I love writing this part of a love story, how they get together. Trust me, they do get together!

Thank you for stopping by today!  I wish you all a wonderful week to come.
Sharon Hamilton